I can't believe it - but I've scrapped AGAIN! And this one ... well, this one came from somewhere very private in me. I'm a little shy about putting myself out there so much, but I have to say that all the comments I've been receiving in the galleries that I posted at - the comments have been SO supportive and encouraging! So...yeah, I guess I'm glad I posted it for all to see & read! But first - today's photo.
As I was working on my layout, I would often take a break here or there to just kinda take a breather and make sure I was happy where I was going with it (this used to be my smoke break where I would smoke and stare at it - seeing if I wanted to try something different. Now I just turn my chair around and look in the living room - letting my mind empty out so I can turn back and see it with fresh eyes). Well - I turned around and saw Daddy & Liam snuggling all cute and stuff - and I had to grab a photo :)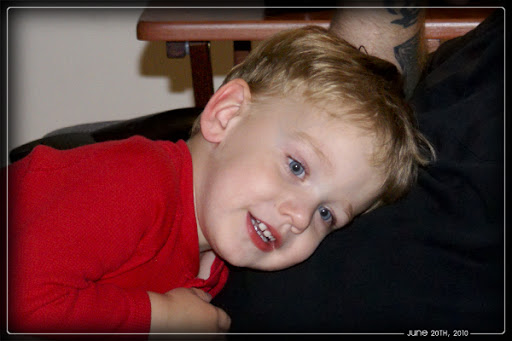 And as promised - here's my layout. This layout was VERY therapeutic! I've been trying to find some sort of help for someone like me (ie: no health insurance and therefore no doctor to write a prescription for me). This layout just made me that much more determined to get back on my meds one way or another. Hopefully - soon I'll be able to get stuff figured out and I'll finally find that elusive thing called happiness :)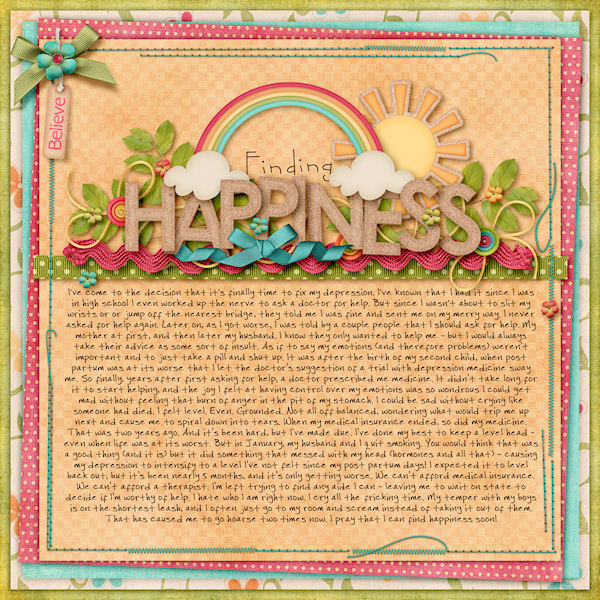 Full credits can be found by clicking on the image!