And the race is on! It's time to really gear down and get my garage sale going. Having no garage means I don't have any place to move stuff around for organizing purposes - so it's gonna be tricky. Moving the truck was step one. Step two is getting everything out of the truck that I plan to keep. Easier said than done, lol.
However - moving the truck has made me feel LOTS more vunurable. Why, you ask :) Well - I'm SO used to stepping outside and having a good chunk of my view taken up by a giant white moving truck. Now when I step out - I get this: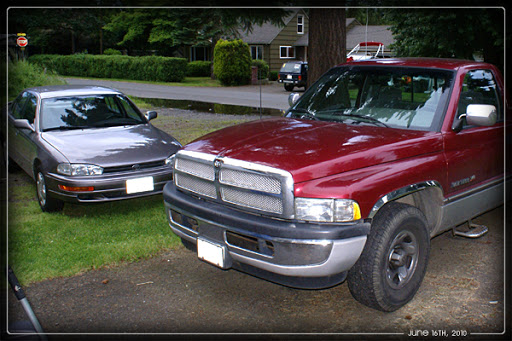 I feel so exposed, lol. I do feel weird - but it's kinda nice at the same time. Now when someone drives by - and I wanna see them - I can look out the window and actually see them (it got a little frustrating when I couldn't see around the moving truck to see what was making a noise).
So yep - it's a new view. And it's time to get busy! Wish me luck - I have LOTS of work ahead of me before I finally do my first ever garage sale! :) See you tomorrow! XoXo!! :D