Holy crap - I scrapped today! I woke up not having any desire what so ever to scrap. But I knew I needed to do something. Especially if I ever expect to reach my goal of two layouts every week - for a total of a 104 layouts this year. I thought I gave myself an easy goal - but I am waaaayyy behind, lol. So yeah - I made myself scrap something. I found a challenge at Sweet Shoppe that called out to me, chose an awesome KCB (Kristin Cronin-Barrow) kit and went to town. And here it is, 2:30am on June 3rd, and I just shut down Photoshop! BUT - I finished and I LOVE it!!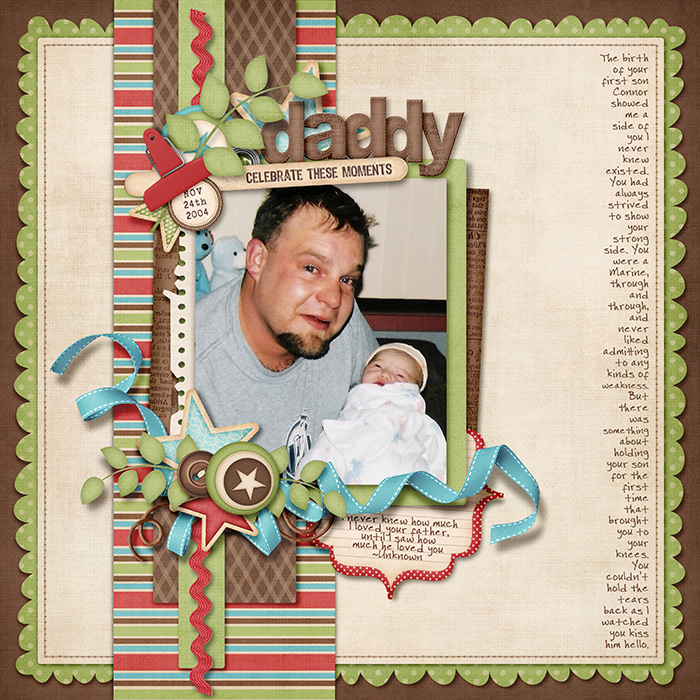 So today I did laundry. All day long - cleaning clothes that weren't dirty so much as smelly. They smelled of storage from sitting in a moving truck for months. So I have been doing an endless stream of laundry - doing my absolute best to fold the newly dried stuff instead of making a pile for later (I did great with that today!).
The kids were stinkers - of course (grrr). OH - we had a parent teacher conference for Connor. He's doing great - and they even liked what they saw in Liam (remember the photo from
this
post - well they saw the care and patience he took drawing an endless amount of circles. They mentioned stuff like remarkable patience for a 2 year old, and great spatial understanding, and other stuff I can't remember, but knew it was good, lol). They went over Connor's final remarks and left. In a few hours, I'll be taking Connor to school. And on Monday - I'll be going to Connor's school to watch him graduate. And it's for real this time - not a pretend like last year. My baby starts Kindergarten soon. Oh wow!!
Eek - this post is getting WAY too long! Today's photo is kinda not what I was wanting to get, but since I can't see what I'm getting till I upload them on my computer (fyi: broken LCD monitor on my camera for those just tuning in) I wasn't able to see that they didn't' look as cute as I thought (I was going for silhouette - and ended up getting too much light and not enough face. The moment I turn them dark, Toms face just looks ... off, lol. I needed their whole heads for it)...
Ugh - anyways - here's my photo for today :)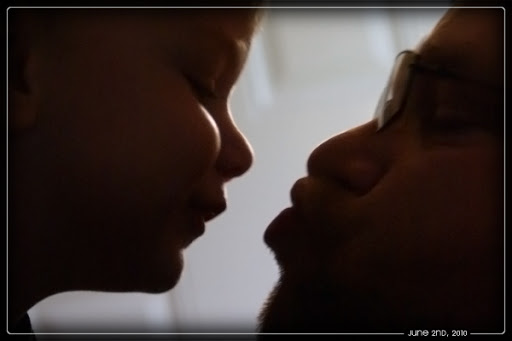 That's it!! See you tomorrow!! XOXO!