I finally did something I've had on my to-do list since we moved in!
During our move, I did a crazy good job cramming as much of our stuff into our moving truck as I could. No spot was left un-crammed! And that meant all the shelves and furniture were used as well. That worked great - except for one shelf. It wasn't a really nice shelf, and apparently - it wasn't very sturdy either, lol. The weight from the boxes caused the top of it to cave it (not sure how else to describe it. It wasn't a shelf - but the top of the whole shelving unit - that broke. It was pushed down until it snapped and broke. There was no fixing it, and besides - I didn't have room for it in this tiny house anyways, lol).
Anyhoo - this broken shelf has been chilling along the side of the house since I dragged it out of the moving truck. With no fireplace, I wasn't sure what to do with it.
In another part of the Moody house, lol - Liam had a cheapie little shelf that always had to be secured to the wall in order to keep it upright and level. It was just two levels - and it liked to move from side to side. Boys are kinda tuff on furniture, so I would secure it to the wall to keep it in place.
Okay - this post is taking WAY too long, lol. Lets finish up by saying I took the back paper part on the broken shelf. Cut it out to fit on the wobbly shelf. Reused the nails that didn't get too bent and nailed it to the back of the wobbly shelf. And we now have one firmly upright and leveled shelf!
Not too shabby if I say so myself!!
OH! My scrapping has kinda taken off!! I'm not really sure why (maybe it's cuz I was so disappointed in my last couple layouts) but I really needed to get a new favorite under my belt. And I think I did it - cuz I just LOVE how this one turned out!!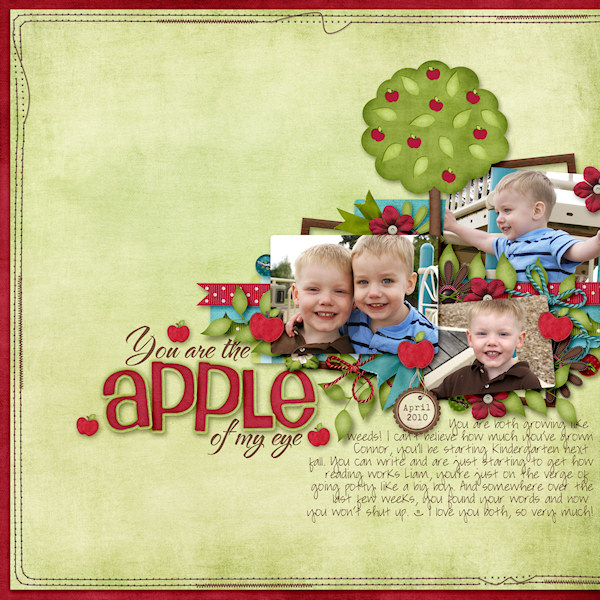 Full credits can be found by clicking on the image!