Today started out...horrible!!
Let's start at last night. We, being new cat owners, did the best we could to set up everything for Kallie and just hope for the best. And things seemed to be fine until around 3am when she just started meowing and wouldn't stop. I got up and was going to show her where the littler box was, but she darted away before I could and I just crawled back into bed. 4am came more meowing, and I had enough. I got up and was able to catch her, and I opened the back door and let her out. She's an outdoor cat (or has been for the last year with Kaci and them) so that's not the issue. But we were going to keep her in for the first couple days to get used to us before letting her out.
So this morning, around 7am or so, I was finally too nervous to sleep any longer. I just kept fearing that Kallie was hurt and/or scared and didn't know where to find us. So I got dressed and went outside, hoping to find her.....and couldn't. I did this over the next hour as the house slowly started to wake up. Around 8am, I asked Tom to get up with me and help me find Kallie. Without being mean in the slightest (morning grumpies and all that, lol) he got up and got dressed.
It seemed hopeless. I started crying and Tom hugged me. I guess it was us just talking that made her meow. I dropped down to my knees to get a better look under our neighbor wooden fence/gate thing - and sure enough, there she was! She wouldn't come to me, but I wasn't done yet. I ran to the house and grabbed the only thing I could think of - Tuna :) But it wasn't needed because by the time I was at the front door, Tom has Kallie cradled in his arms and was heading back. I think Kallie has chosen a favorite, lol :)
So that happened before I was even awake (on top of a night with horrible sleep!).
Today's photo - having nothing to do with that - was of a sweet little moment where the kids got to be spoiled the way kids should (and in a way that has been hard for us to do in the past). We heard the familiar jingle of the ice cream truck, and Tom booked it out the door. He returned a few minutes later with some treats for the kiddos!! And today's photo is of Connor enjoying his. Okay ... maybe "enjoying" isn't the right word, lol... "Posing" is more correct :P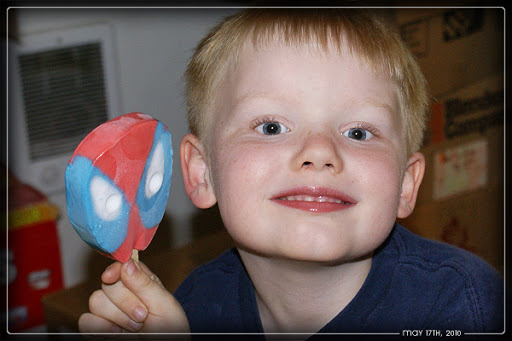 And with that novel, I'm calling this post done!!! See y'all tomorrow!! XOXO! :D