At the end of 2009, Scrap Orchard challenged us choose a slogan for 2010 and change our forum avatar to show it off. I thought about the coming changes (moving and hopefully quitting smoking) and I knew what my slogan would be: New Beginnings.
And I have found myself - over the last 5 months - thinking about that avi that I made. I have had so many new and exciting beginnings, that I can't help but smile, happy at all the changes that have occurred thus far :) And today was yet another new beginning for me and my family!!
Our friend Kaci called with a delima. Her and Dameon are moving at the end of the month, and the place they're going to either allows only one cat - or none (I never found out). And they have two or three. I know she got rid of her baby, Ninja! I was shocked about that. And they had one more cat that needed a home. She was a stray cat that just stuck around. A young one when they found her - they didn't have the heart to keep her away. And now they wanted a home for her that wasn't an animal shelter. We resisted for quite a while, but Kaci just kept praising her qualities. Apparently she's a super friendly cat, always tolerant of kids and is a master mouse hunter.
"Fine," Tom says, and I grin quietly :) "We'll take her, Kaci. Okay?"
Yep -- today we started the new beginning of family life with a pet. We've not gotten one before for the same reasons -- didn't wanna train a kitten and get that nasty cat smell. Didn't wanna pay the pet deposit. Just had a baby. Couldn't afford to feed ourselves, let alone a cat....But we're doing good, and it just seemed to be the right thing to do.
And so, please say hello to Kallie. We named her on the way home (trying out many names and coming back to Kallie after a while. Connor said the name though I can't remember for the life of me why he chose that name) :D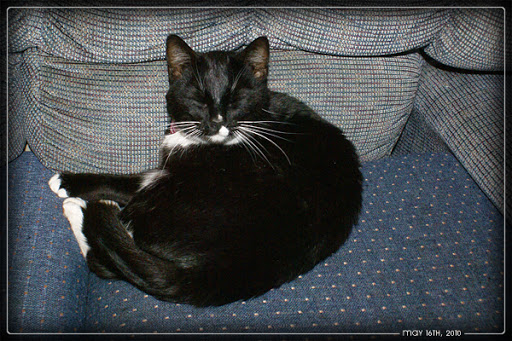 We also had a very lazy day today, and it gave me the peace & quiet I needed to finish my layout for Kristin's newest kit!!! I took on one of the challenges over at Sweet Shoppe to scrap about my name. And since my story is a little different than most, I had fun designing this page :)
Full credits can be found by clicking on the image!