So a couple weeks ago - hope was finally blooming in my heart that this whole "living the poor life" was nearly at an end. Tom was going to start a new job in a couple weeks - and I was thrilled! Then, surprise-surprise -- something happens and apparently my husband doesn't have a job. That's why I never get hopeful - because the hurt is so much more powerful when hope is involved and things don't go the way you hoped...
Well, this morning, out of the blue - the guy that had interviewed him and offered him a job (and then said never mind about that job) -- well, he called and asked Tom to come into a second interview. No - the company wasn't shut down (that's what I was told was the reason why he wouldn't be starting work. That they had to close up shop). I guess they just simply moved buildings. Not sure why someone didn't say that last week - but I'm not complaining because shortly after his 2nd interview, he called me saying he starts on Monday!!
And on a totally adorable note - today's photo :) Okay - it's adorable to me, the mommy of the adorable toddler :) With Connor at school, and Daddy at his interview, it was just me & Liam. And without those distractions, Liam is able to just play alone and let his imagination take over. Today it took him to taking care of his monkey :) First he gave him a bath, then meticulously dried him, and finally he covered him up and let him take a nap. He looked so incredibly proud, and I'm sure I mirrored his prideful look since I was just in awe of my little smartie pants, lol. Not a HUGE accomplishment to some - but a moment worth treasuring for me.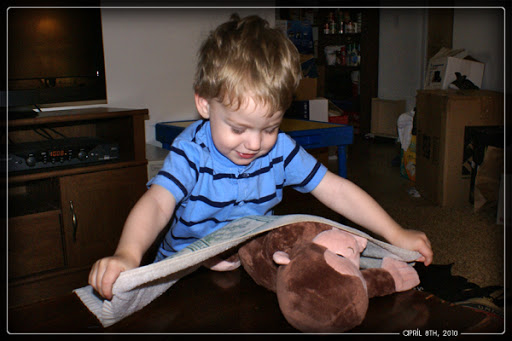 OH!! And I can finally show you the awesome layout I did with Lyndsay's new kit!! She finally did away with the pinks and did a boy kit! YES!!! :D
Full credits can be found by clicking on the image!