After escaping to our friend's house last night, I remembered that today we were heading back to celebrate Devan's 6th birthday. I sure hope they don't get tired of seeing our faces around there, lol.
So, today was another escape day for us. Connor had a blast playing with his buddies. I never really had a friend that I could say I've known my whole life. So it's really fun to think that Connor has known them pretty much since he became aware that he was more than a lump in my arms, lol. I can still seeing a wobbling Connor, barely walking, trying to run with Devan and Ray. Down went Connor, and there is Ray & Devan, not slowing down a bit as they run over top of him, lol. They were ~2yrs old or so, so they didn't know better, lol. It always makes me giggle when I think of that day :)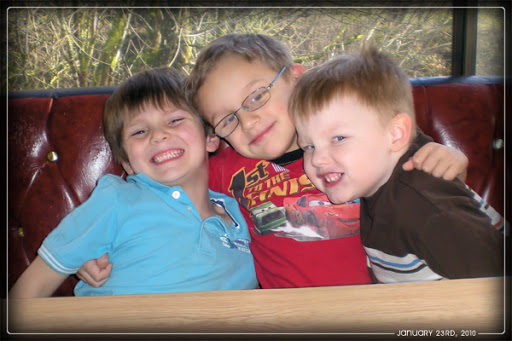 And because I'm all for the pictures, I have more to show from Devan's birthday party. Here's a little collage to satisfy my show off needs :)
Top Left:
Devan getting ready to blow out his candles. I missed the blowing one by just a second, but I kinda like that one the way it is.
Top Right:
Here we have a "cheesin" photo of Liam - he's getting really good at knowing what to do when I whip out the camera :)
Middle Left:
Connor and Ray huggin' it out -- I love those kind of photos.
Middle Right:
Devan being silly with his hair. Not really sure what he was doing, but I think he looks stunning! LOL :)
Bottom Left:
Liam sneaking more bites from Daddy's cake.
Bottom Right:
I grabbed a quick pic of Jaiden munchin' on some olives (there's one on his finger - which is what I was actually trying to photograph)
Okay -- enough for today's post!! I'll see y'all soon!!! XOXO :)